MTI provides Private Mental Toughness Coaching for world-class athletes, performing artists, and other high performance professionals. In fact, for many of our clients, including gymnast Ella Douglas, this coaching has made the impossible, possible.
For Douglas, winning silver on beam and finishing 6th all-around was not predictable or to be expected, especially not at Gymnix, Canada's premier international competition.   Over the last 2 years, Douglas has undergone two different major surgeries.  At the time of competition, she had only been back to full-time training for one month and, when asked, Douglas explained that she could not remember the last time she had trained without intense pain.
There have been times when Douglas has wanted to quit, when she questioned her Olympic dream – if it was even still possible:
REAL RESULTS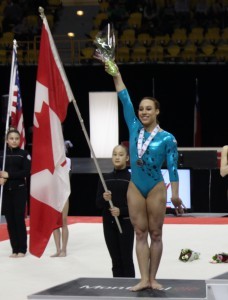 "I went through a long period of time where I had to take things hour-by-hour, or else it was all too overwhelming, stressful, and hard to deal with.  It's about staying present and taking tiny steps.  Even when I was going to training, I didn't even think of my events: I'd go to gym and only think about warm-up. Then, when warm-up was over, and I moved to bars, I'd only think about bars.  Then when I was on floor, my mind was 100% on floor.  This present-mindedness that I learned from Mental Toughness Coaching made a huge difference.  It's all about being in the moment, being fully focused on what you're doing at that time and then, when it's done, moving on to the next thing."
And Douglas' persistence paid off, thanks in a large part to her commitment to mental toughness training and her devout visualization routine. With only one month of preparation, after injury, and against all odds, Douglas won silver on beam and finished 6th all-around: Truly an impossible result made possible by her commitment to mental toughness coaching.
WHY?
Why Private Mental Toughness Coaching?
Just imagine what your technical skill would be like if you didn't have a coach: You wouldn't come close to the same level of performance, right? It's your coach who sees and calls out the missing pieces in your performance, and gives you the feedback and support you need to bring your 'game' to that next level.
It's not simply your physical skill that holds you back from achieving your peak potential—it's often your inability to handle the pressure and perform in clutch situations. That's where working with a Mental Toughness Coach comes in. We're here to help you identify what's holding you back, to give you tools to push you past your limits, to be your personal cheerleaders, and to help you reach your goals faster than you ever could on your own, all by accessing and unraveling the power of your mind.
And, just like you improve so much faster when you work one-on-one with your coach or instructor, so too is the learning expedited with private mental toughness coaching. No cookie cutter molds here: Your coach will work specifically with your needs, your concerns, and your specific failures to perform to develop a mental toughness training plan tailored specifically to YOU!
HOW?
How does Private Mental Toughness Coaching work?
Mental Toughness Coaching works according to our 'ACE' Training process: Awareness, Coaching, and Elevation.  Each athlete/high performer goes through the same process to ensure optimal results.  However, the content of each coaching session is completely unique and determined by the individual needs of the athlete.
The Private Mental Toughness Coaching Process:
You complete the Intake Assessment and Initial Consultation with a Mental Toughness Coach.
The coach invites you to join the MTI Athlete Roster (if it's a good fit).
You attend regularly scheduled weekly coaching sessions via Skype or FaceTime (30, 35, or 60 minutes per week) to create new habits and provide accountability.  It takes a minimum of 16 sessions for you to get ahead and form new habits.
The coach assigns weekly 'Toughness Training' assignments specific to your needs.
You and your coach communicate via email or text as needed.
You are held accountable for your toughness training and are debriefed on its effectiveness during the next coaching session
How do you know what I need?  
We determine what you need through our distinct phenomenological methodology that involves in depth, experientially questioning by the coach, followed by an in-the-moment analysis of your answers. Ever noticed how your assessment of your performance can be very different than what others say about your performance?  It's our belief that your perceptions of reality create your experience of reality, which is why you and another observer can have totally different evaluations of the same performance. This perspective then dictates your emotional state and subsequent actions and reactions, which leads to your results. Therefore, we are always most interested in what you have to say about your performance experience and we use this data to deconstruct your personal mental barriers to peak performance.
WHAT?
What exactly will we be working on?
When we work together, we'll:
Take a good, hard look at the fears and thoughts that are holding you back from performing all-out—then replace them with positive habits that stretch your optimal performance zone, allowing you to play BIGGER and better.
Focus on the training areas you're struggling with and come up with a personalized plan of action that'll take you to the top of your 'game'—and keep you there.
Break down your wins and losses to help you figure out where there's room for improvement—so when it's 'game-time', you're breaking out of the starting gate with gusto.
Show you how to monitor your own training using our innovative Get Psyched App that's packed with exercises to help you get out of your own way—so you keep progressing even between coaching sessions.
Plus you'll get unlimited email and text support—because we never want you to feel like you can't get a hold of us, especially if you're in a stitch right before a big performance.
What results should I expect? 
Gain the confidence to cream your competition
Play like you mean it—every single game
Reconnect with your purpose and the enjoyment of your pursuit
Tap into the zone, even when things aren't going your way
Take more risks to earn mega-big payoffs
Dropkick your fears, so you can finally realize your goals
Bounce back quickly from setbacks
Develop tools to deal with whatever is thrown at you
Confront head-on those issues that are holding you back
Take a huge leap forward in your results and overall performance
Vastly improve your communication and time management skills
Perform on Purpose™ when and where you want to
TAKE ACTION
NO MORE WHAT-IFS! NO MORE PRE-COMPETITION JITTERS! NO MORE HUGE DISAPPOINTMENTS!  SO ASK YOURSELF THIS: DO YOU WANT TO BE GOOD? OR, THE BEST YOU CAN BE?
INQUIRE ABOUT PRIVATE COACHING
OTHER QUESTIONS AND ANSWERS
Here are some other frequently asked questions and answers:
What do you do to make sure I'm engaged in between sessions?
On every coaching call, your Mental Toughness Coach will assign a 'Toughness Training' assignment (your homework between sessions) based on your individual training needs. This assignment is meant to take your mental toughness to the next level by bringing the tools and principles you've learned into your training, competition, or performance.
In addition, we developed an IOS app called 'Get Psyched App' to provide further tools and training in between sessions and to help prepare you to get psyched for any upcoming performance. And, of course your Mental Toughness Coach is always available via text or email for any questions or concerns you may have in between coaching sessions. 
What if I don't have much time?
The majority of high performers do not have a lot of time to spare. We took this into consideration when developing our coaching programs. All of our coaching sessions take place over the phone, Skype, or FaceTime, so they slide right into your busy schedule, giving you the freedom to play more and think less. And, the majority of your weekly toughness training assignments are to be completed alongside your regular practice schedule.
In addition, since Mental Toughness Coaching literally trains you to get out of your head, you'll notice that a whole bunch of time frees up as your worries disappear (since you don't waste as much time focusing on them!).

What if it's too expensive?
We have coaching programs that fit all budgets. We work with you to tailor your coaching program to your specific budget and performance goals.
What if I'm not the right age?
We work with athletes and performing artists of all ages. We currently work with athletes as young as 9 years of age to 50+ years of age and everyone in between.  Our main criterion is not your age, but rather whether it is you (not your coach, parents, spouse) who is interested in and committed to mental toughness coaching. You will be the one who has the work to do, so it is imperative that you bring the commitment that matches the results that you want, independent of your age. We obviously tailor our coaching to your age and competitive level.
What if you've never worked with my sport or discipline before?
According to our methodology, regardless of your sport or discipline, performance is performance: The same mental factors are required for optimal results. So whether you're a snowborder, a CrossFit athlete, a prima ballerina, a corporate executive, a volleyball player, an actor, or anything else, these mental toughness tools and principles will work for you.
Our Mental Toughness Coaches have worked with countless athletes in numerous sports and disciplines. Although we quickly pick up the details of your sport or discipline, please don't expect us to coach you on your technique or specific strategy, as that's not our job. Our job is to uncover your mental barriers to peak performance, which is not sport or discipline-dependent.
We look for the same thing with all of our clients, regardless of their sport or discipline:
Where are you breaking down?
How does your body respond?
How do you react?
What mental toughness tool will support your performance breakdown?
In short, our Mental Toughness coaches are experts in identifying mental performance barriers regardless of your sport or discipline.
All that matters is that you're willing to do the homework and take on our coaching, all of it even if it seems silly, even if you don't want to, even if it scares you. It's your willingness to be coached and do the toughness training that'll have it be the most effective, not whether your coach has any previous experience with your sport or discipline.
In fact, in our experience, it is sometimes better the least we know about your sport or discipline, as this seems to remove any inherent cultural bias in your sport or discipline. This ability to be an observer allows us to look at your performance through fresh eyes and specifically deal with what's stopping you mentally for achieving your best performance.
What if it doesn't work?
After having coached thousands of athletes over the last four years to breakthrough, often unimaginable, performance results, we know our methodology works for all athlete and performing artists of all disciplines (and we've worked with some ambiguous ones!). If for some strange reason it does not work for you, despite your best efforts over the first 2 months, we will happily refund you your investment. We do however recommend all clients stay with us for at least 4 months, as that seems to be the time when your new mental toughness habits begin to form and you experience your first huge jump in your performance.

REAL RESULTS
But don't just take our word for it, check out what our clients are saying:
"I started working with Kara because I was having trouble overcoming a slump in my swimming. Every aspect of my training and racing has been completely made over into an athlete I feel I could never be without Kara's help.  Overall this is the best thing I could have ever done for my swimming."
–Matt Crull, Competitive Swimmer, McGill University
"I was super nervous night before my big university audition and after only one coaching session, I feel as if I rocked it.  I was in a room with about 25 other students, I went about 10th, and they actually let me say my entire monologue, so I think I stood out.  Thank you for your help!"
— Olivia McAlpine, Performing Artist, Stage Actor and Singer
"I'm here to talk about my experience so far with Kara – Life-Changing!  That's it.  If you are trying to figure out something to do to change your sport, change your life, Kara's the one to go to.  She'll dig deep and figure out why you're making the mistakes when you perform."
–Tommy Snarr, Competitive Cross Fit Regionals Athlete
ARE YOU READY TO RISE TO THE PERFORMANCE LEVEL YOU'RE CAPABLE OF?
Now that you know how we can cause breakthrough results for you, take your FREE assessment.
What if I'm still not sure this is for me?
Well, you might as well complete the assessment to find out for yourself.  As I'm sure you've heard before, "You'll never know until you try".  You're under no obligation. We'll make sure it's affordable. All ages are accepted. You really have nothing to lose. You won't regret it. Contact us now!